Back to Blogs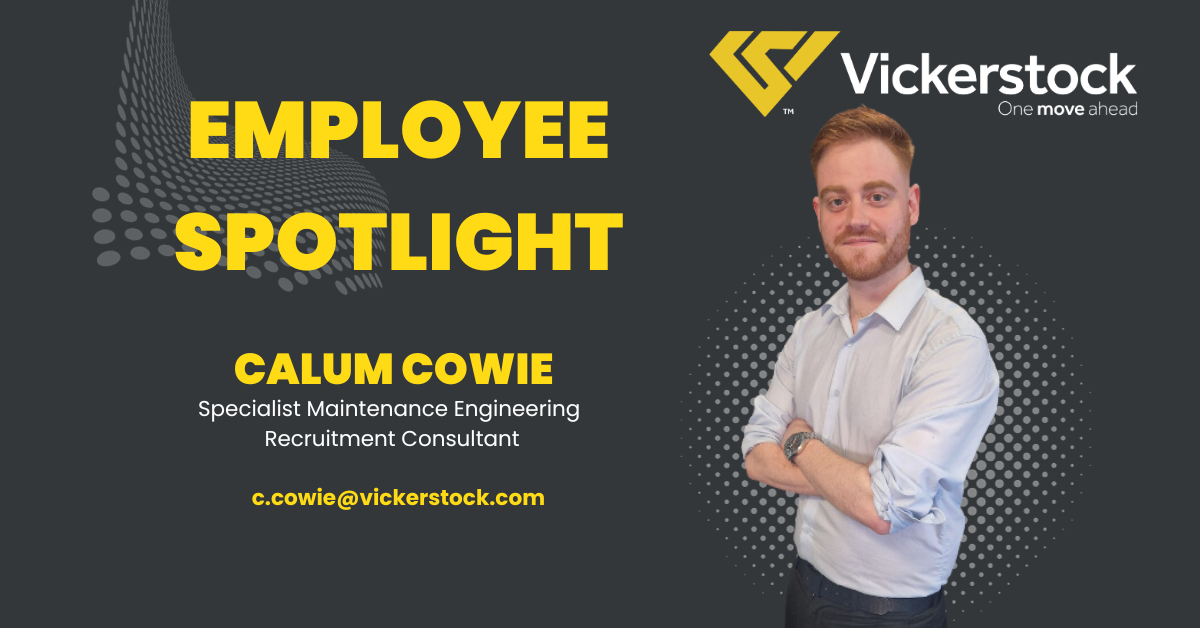 Employee Spotlight - Calum Cowie
​We sat down with Calum Cowie, our Specialist Maintenance Engineering Recruitment Consultant to find out more about his role, the industry and what he can do to help candidates looking to move into a new role.
What roles do you recruit for?
Maintenance Engineering roles, this can be anything from Maintenance Technicians, all the way up to more senior Maintenance Management roles and anything in between. This would cover Manufacturing/Factory Maintenance roles as well as field-based Service Engineering roles.
What does a typical client you work with look like?
I work with clients of all sizes, everything from well-established Global Manufacturers to smaller local Engineering Firms.
What have you found are the main skills they're currently looking for?
This can depend greatly on a case-to-case basis. Some firms may just be looking for someone with a bit of hands-on experience of Maintenance and some qualifications, whereas some firms will require a skillset gained through a very specific background working with certain types of Equipment and Machinery, it can also depend greatly on the level of the role, more senior roles will generally require a more specialist skillset. One thing that applies across the board is the requirement for candidates to be technically minded with good problem-solving skills, these attributes are absolutely essential for any kind of Maintenance role.
How do you see this role evolving over the coming years?
I see Automation and Artificial Intelligence playing a major role in shaping the future of Maintenance Engineering, with technology becoming more powerful and capable of handling Manual tasks which are traditionally carried out by humans. I would imagine that aspects of programming will become more integrated into the training and educational side of Maintenance Engineering, this is already the case to a certain extent, but I think that this will only become more commonplace as time goes on and technology continues to advance.
What advice would you give to a candidate applying for a maintenance engineering role?
First impressions are key in all aspects of a job application. The first thing I would say is that it's extremely important not to undersell yourself in your CV as this is more often than not the very first thing an employer or a recruiter sees in relation to you. It's important to highlight your key skills and relevant job duties clearly and in detail.
How can you help candidates wanting to apply for a role?
In my day-to-day job when dealing with candidates I can help in a number of ways, whether this be actively searching for roles that suit their skillset and also their salary expectations and keeping them updated, gathering as much information regarding their skillset to ensure that prospective employers have a full picture of the value they can bring to the company, or arranging interviews on their behalf. It's my job to make the process easier for both the candidate and the client to ensure that the right skills are matched with the right environment and ensuring that both parties' benefit from the process as much as possible.
​
Want to find out more about how Calum can help you find your next Maintenance Engineering Role? Contact him today at c.cowie@vickerstock.com or visit his profile.
​