Back to Blogs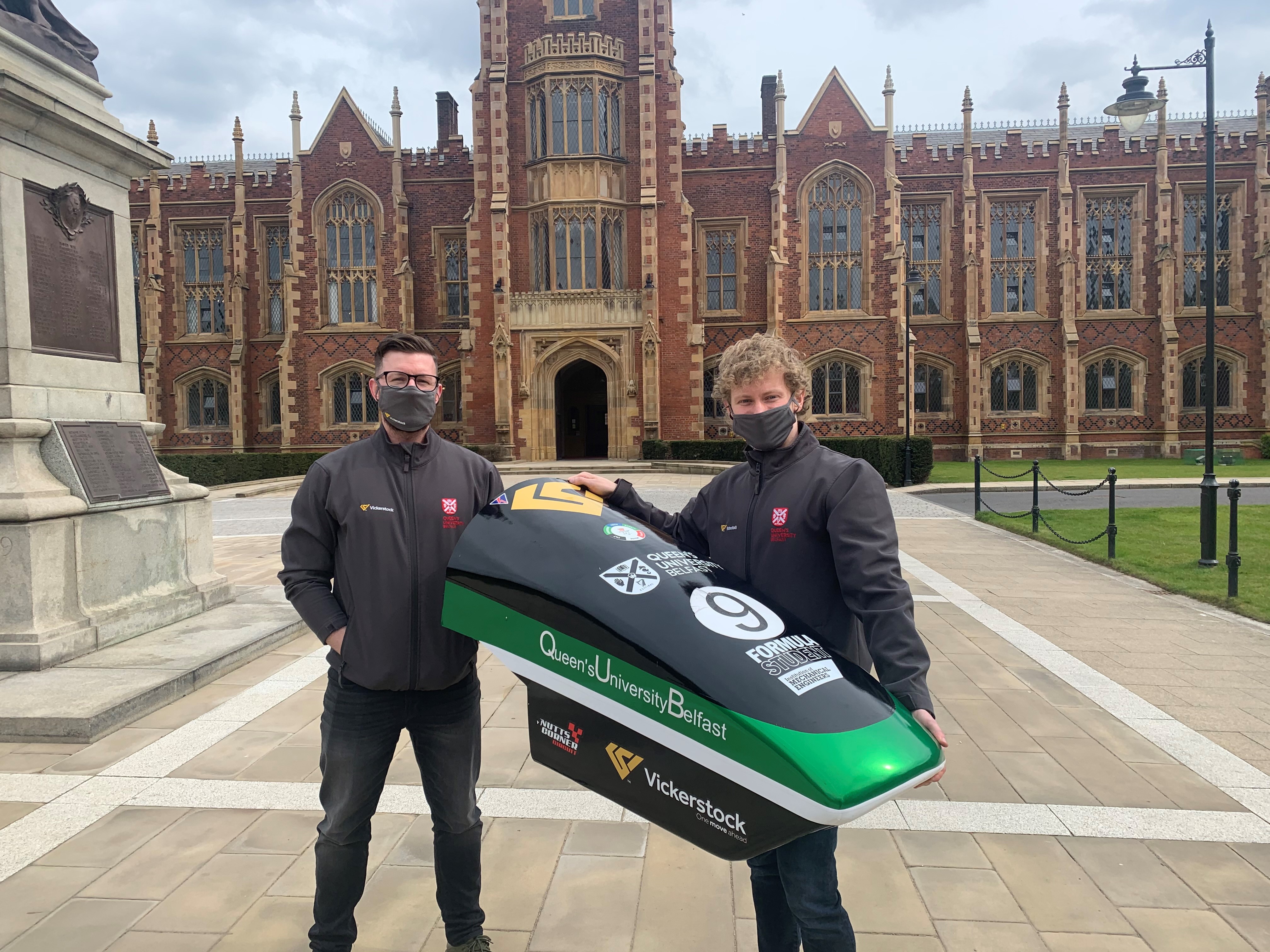 Vickerstock sponsors Queens Formula students first ever Electric Powertrain
Vickerstock are delighted to announced that for the third year running we will be a primary sponsor for the Queens Formular racing team and supporting their new exciting plans to hit the track with a new electric car in 2021.
Queen's Formula Racing design and build small open-wheel racing cars for the annual Formula Student competition at Silverstone race circuit and this year, they are going electric. The team is made up of students from the School of Mechanical and Aerospace Engineering at Queen's University Belfast.
We recently had our first official virtual catch up of the year with Dr Geoff Cunningham, Senior Lecturer at Queen's University Belfast and Peter Gillian, Head of External Relations for the team. The Vickerstock manufacturing and engineering team were excited to get an insight to the exciting plans ahead for the Queens formula team to hit the track with a new electric car in 2021.
Geoff Cunningham firstly spoke of his appreciation towards Vickerstock becoming a sponsor for the third year running,
"We have had a very valuable relationship with Vickerstock over the past three years and I am looking forward to working together again this coming year. Our relationship has provided the students with a better understanding of their career options in a changing employment landscape, and Vickerstock have always been on-hand with expert career guidance. It has also allowed us to demonstrate the high quality of work that students can deliver, which itself, helps Vickerstock to promote our graduates to potential employers"
Peter Gillian further went on to inform of us about the vehicle/s Queens formula students are developing for FS2021,
"We're currently developing our first electric vehicle, a massive transition for the team. We've opted for a single-motor RWD set-up to develop the foundations required for an EV. Thankfully, we've been preparing for this move over the past couple of years, with different students completing their dissertations on electric powertrain design. It's exciting to see it all come together and produce a running vehicle."
It is truly incredible to see the skillsets amongst each of these students towards adapting to changing environments within manufacturing and engineering and of course following suit on sustainable methods.
Darren McVicker, Director at Vickerstock states,
"It is with immense pride we continue to be principal sponsors of Queens Formula Student Race Team. Supporting Tomorrows Talent within STEM is very much part of the wider vision of our company and as a recognised talent guide we seek to promote, encourage and highlight pathways to career opportunity. QFR fits perfectly with this vision and we would encourage everyone to get behind the team and support their enviable talent, knowledge and skill."
We look forward to following Queens Formula students on their journey as a primary sponsor for their first ever Electric car and we wish to congratulate all the students on their ability to build such a brilliant new powertrain throughout such a curtailed year in 2020 due to the Coronavirus.