Back to Blogs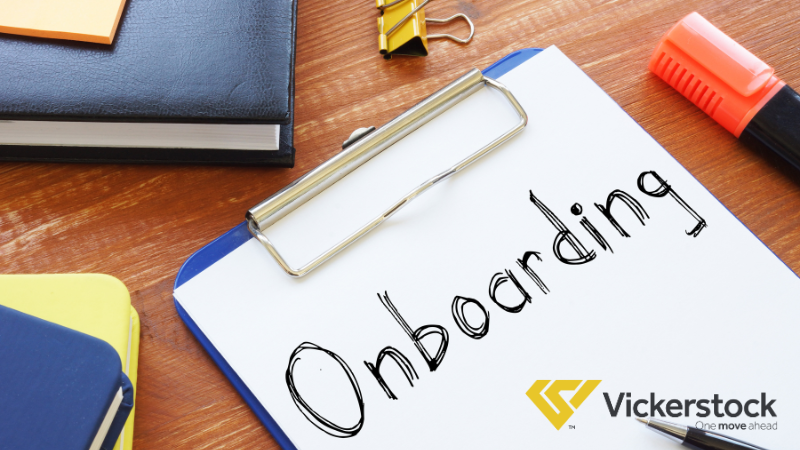 How to Successfully Execute your On-Boarding Process
​At Vickerstock, we always continue our support for candidates and clients post placement. Ensuring our candidates are comfortable and happy within their new role well beyond the start date, is of upmost importance to us. In addition, we will always follow up with clients to ensure the candidate has met their expectations and they are happy with their progress
If you are a candidate, check out our recent blog, how to make an impact within the first 90 days of your new job.
If you are a client, stay right here. We wanted to share with you some pointers on how you can successfully execute your on-boarding process.
Pre-boarding -preparation in advance of start dat
Prepare important documents
Prepare all important documents and information in advance of start date. A candidate's contract will have been provided to them upon acceptance and ideally signed, if not, ensure this is signed and received before their start date.
It is also advised to gather the candidates bank information early to prevent any delays with their first salary payment, gather their emergency contract information and any additional legal documents required. Having all this to hand in advance of a start date will keep you on the right track, shows you are organized/professional, and saves the candidate having to gather this information during their first month.
Manager Welcome
If you have been working directly with ourselves, it is only normal that our specialist recruitment consultants will have monopolized the majority of communication with the candidate right up until acceptance. In that case, we would advise picking up the phone and calling your new hire to welcome them to the team and introducing yourself as their manager, or as their point of contact. Hearing a friendly voice is key and here you can demonstrate your genuine interest and excitement for them as a new recruit for the company.
Introduce the Company's Culture
In advance of a start date, it is admirable for a company to introduce your companies' culture and values and how they will have a positive impact on your new hires before their start date. Of course, a lot of this will be discussed and witnessed after they start, but showcasing the bones of your company vision /goals, work ethics and videos/social media to show the energy of the working environment will give them a taste of what to expect.
On start date
Assign a Mentor
Pairing new starts with a mentor is the most effective way to ensure all uncertainties can be acknowledged at ease. A mentor can help new starts understand the company as a whole, show them around the premises and can be an informal go to contact for small questions such as, lunch times and unwritten rules.
When selecting your mentor, ensure they work within the area and division so practical and experienced advice can be provided.
Create a starter Kit
Whether digitally or as a printed format, providing employees with a starter kit with access to all important and informative documents is extremely beneficial. Such kits can include contact information's, an office map, basic company policies, company structure and incentives.
It is also advisable to create a folder on a shared drive so employees can access How-to videos, software guides, important templates and additional documents.
Manager involvement
As previously mentioned, if you are their manager/point of contact, a phone call in advance of start date is not enough to provide that warm welcome a new start deserves.
It is extremely important that managers get involved with the on-boarding process to discuss the company's strategy, provide a training structure, organise a casual lunch with team members and to be on hand to discuss concerns / gain feedback.
Post Start Date
Set a training schedule and a personal career development plan
No matter how experienced a new start may be coming into the role, training is essential. Training does not need to be squeezed into their first week, spread it out gradually. However, do prioritize job-related competencies and Health and Safety.
Set a schedule so the employee is aware of upcoming training over the next 90 days. Gaining feedback throughout this process will allow you to adjust the pace of your training, if an employee needs more time to practice and process this training, organise your schedule accordingly. Training should never be rushed, take your time.
Set clear goals and expectations
It is important that employees understand what is expected of them and how their performance will be measured/evaluated. Understanding all of the above will allow new hires to structure their day to day and what will be expected to report on at the end of your probation period.